Welcome to Gabi's Olympic Cards & Comics!
Retail Space is Open
Store Hours
Monday – Saturday: 10 am – 9 pm
Sunday: 10 am – 6 pm.
There is a limit on customers in the store based on spacing, masks are required, as well as sanitizing your hands when you come into the shop. We have masks that the community has donated, that are yours to keep after you shop. We also have hand sanitizer available at the door that you can use. Social distancing rules are in place as well. Curbside pick up is also still available!
All events are still suspended until it is safe.
Gift Cards are available on our Shop page now. Right now we are only able to use paypal, but you can pay with a debit/credit card through Paypal. If you want to purchase a Gift Card for someone else, let us know in the additional info at checkout, or contact the store, so we can put the Gift Card under the recipient's name!
Thank You to the community for the love, light and support!
We are overwhelmed and at a loss for words. The out pour of support has been amazing. Words cannot explain how truly appreciative we are for all of the kind words folks keep sending, and all the other ways folks are supporting the community, each other, and us.
Now, let's get to the details on our ordering process.
Facebook
You can message us via our Facebook page. Once there, click on the "Send Message" button.

You'll get our message window with some suggested topics, feel free to use one of those, or just type out your own question.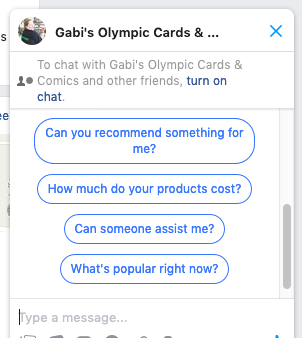 Phone
That's right, you can still call us at 360-459-7721.
Email
Our email is olympiccardsandcomics@gmail.com or you can use the contact form below which will go to that email address directly.
Thank you for your support!
We're also still providing meals to kids and seniors. Click on the Gabi's Kids page to learn more about our nonprofit and how you can donate.