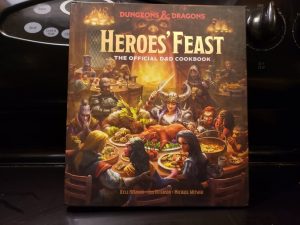 If you've come into our fine shop in the past couple months, no doubt you've seen our ever growing selection of themed cookbooks. While some of these may seem gimmicky, there are some that have amazingly thought out recipes that astound and since its the time of big dinners while we celebrate our various holidays, we here at O.C.C thought we'd share a few good recipes for you! We will do our best to share recipes of all varieties, keeping in mind dietary restrictions and such, the first of which is one of my favorite recipies from one of my favorite books.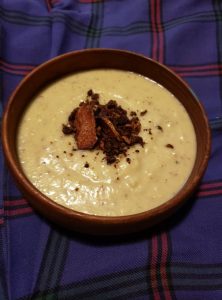 Dwarven Potato Leek Soup
From Hero's Feat: The official D&D cookbook
Written Kyle Newman, Jon Peterson, and Michael Witwer
Note: This soup is a very lovely velvety soup, thick and hearty. While the recipe calls for both bacon and chicken broth, it can easily be made into a pure vegetarian dish by skipping the bacon and substituting the chicken broth and heavy cream with vegetable broth and a 1 to 1 ratio of coconut milk. The coconut milk will give the soup a slightly sweeter profile and the effect of the bacon can easily be replicated with a number of alternatives (though the only one that I have tried is making carrot bacon) and some kind of neutral oil to help soften the veggies.
Serves 6
Ingredients needed:
2 slices of thick-cut bacon
3 leeks, white and light green parts, thinly sliced
3 celery stalks, chopped
2 teaspoons fresh thyme leaves
2 pounds, russet potatoes, peeled and cut into 1-inch pieces
4 cups low-sodium chicken broth.
Kosher salt
1 cup heavy cream
Freshly ground pepper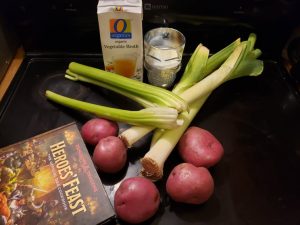 With everything prepped, I cooked the bacon until well rendered and lightly brown over medium heat. 15 minutes or so should do it. Once done I transferred to a wire rack over a plate with paper towels on it. I then put the leeks, celery, and thyme in the pot, stirring and turning them around for about 5 minutes. You don't necessarily have to stir them for 5 minutes straight, just enough to make sure all the veggies are soft. The leeks can be a bit difficult to pull the layers apart if cut too thick, so do your best to separate them.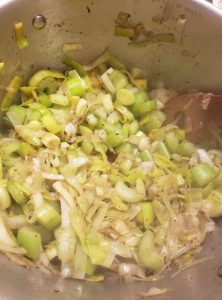 After the veggies are soft, add the potatoes, broth and 1 teaspoon of the salt and bring to a simmer for roughly 20 minutes or until the potatoes are soft.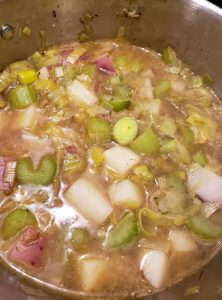 Once soft, remove the soup from the heat. There are two ways to do the next step, immersion blender, or countertop blender. An immersion blender is quicker, as you can stick the blending end of it into the pot. If using a countertop blender, do it in batches on a lower setting with the top cap off to vent the steam. Either way, you want to do this until the soup is smooth.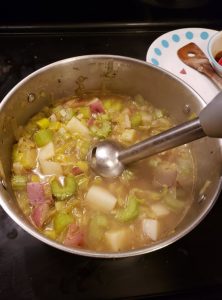 Return the soup to the stove. Stir in the cream and simmer over medium heat. In 5 or so minutes the soup should thicken slightly and at that point the hard work is done! From here it's just seasoning to taste with the pepper and salt and if you made bacon or an alternative if you made one. This soup can also be served cold, which surprisingly lets the veggie taste pop out pretty good.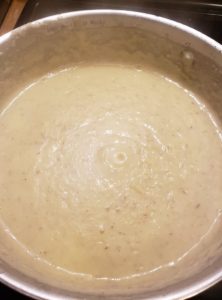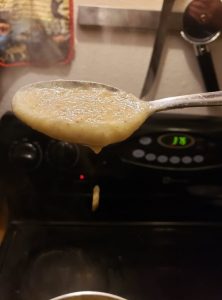 I sincerely hope you enjoy this dish, and if you do, come on in and pick up a copy of the Hero's feast cook!
-Warren