You've no doubt seen posts here, on Facebook, Twitter, and Instagram about a new comic series from Image Comics: THE FORGED.
I wanted to take a moment and reach out to you about the book. THE FORGED is a pulpy, action-oriented science fiction comic written by myself and Greg Rucka and illustrated by Mike Henderson (NAILBITER, also from Image).
We're very excited about the book (my first creator-owned series!) and we think you may like it, too.
A love-letter to old school comics like HEAVY METAL, THE FORGED is set thousands of years in the future, and humanity has conquered the stars, forging an interstellar dominion in the name of Her Majesty, the Empress Eternal (who herself may be thousands of years old).
The heroes of the story are an elite team of power-armored, all-female super soldiers, clones of the mighty Empress, and the ultimate expression of Imperial might.
The team—the leader, Victory; the heavy-weapons expert, CrazyJo; the medic, Pusher; the combat engineer, Hap; and the silent scout/sniper, Harpo—are dispatched to a distant alien world completely inhospitable to human life, a planet with a methane and sulfur atmosphere, and a permanent rain of molten glass. Their orders: find the flight recorder of a crashed Imperial ship.
A milk run, right?
But nothing is as it seems, and even The Forged are struggling to survive an undiscovered menace that may spell doom for the Empire…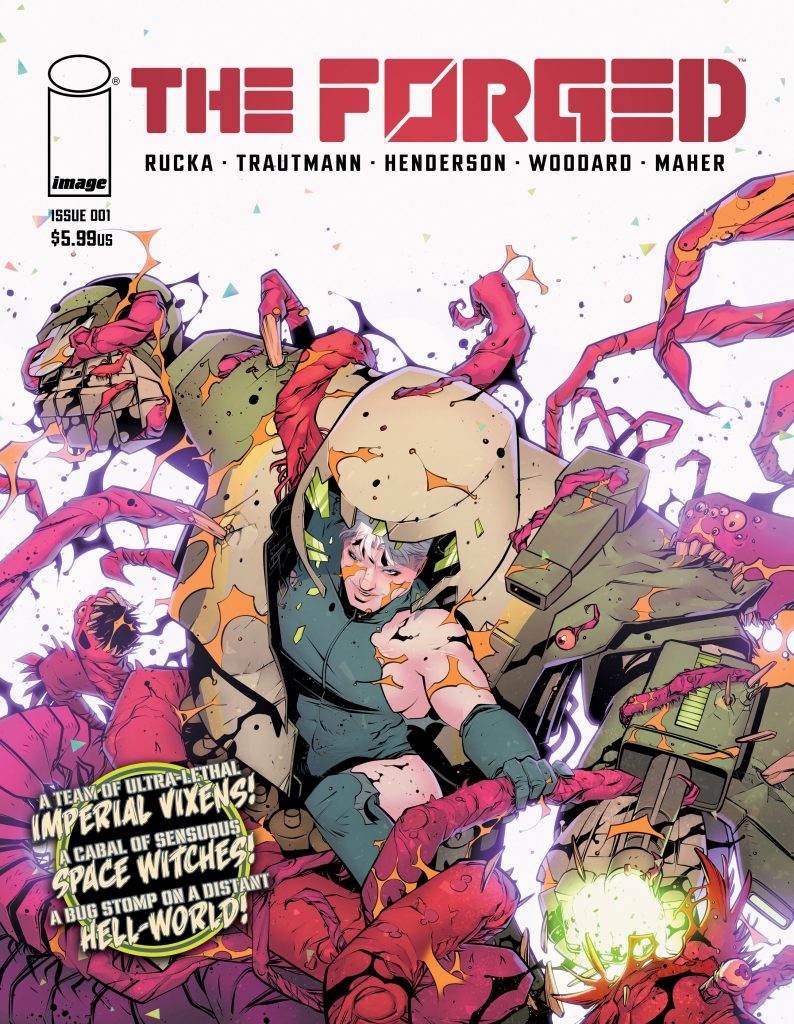 On Wednesday, March 15, from 1–6 pm, all three of the series creators (me, Greg, and Mike) will be at OCC, signing books, answering questions, and shooting the breeze about comics!
The book is HUGE (each issue is 64 pages, packed with story and bonus material, in an oversize "magazine" format—three issues' worth of content for the price of two regular comics, $5.99) and this is a great time to jump on.
So fire up your reactors, grab your blaster, and get ready to jump into action.
Hope to see you at the signing!
-Eric Trautmann